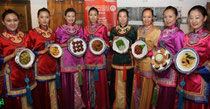 The next Gourmand World Cookbook Awards ceremonies for the "Best in the World" will take place in China during the Beijing Cookbook Fair, organized with the biggest film and television studios in Beijing, with the support of the City of Beijing and its southern Daxing District. It will be a unique opportunity to discover and meet China new media, and creativity in publishing, with our partner CNM - China New Media Development Zone.
After 5 years in France, the Awards come back to Beijing, where they were held in 2007.
• China is now very important for the foreign rights business. For instance Chinese is the number one language for translations of French book titles in 2012.It is also the first export market for books from Germany.
• The Chinese are very interested in international food and wine. Foreign food cookbooks in Chinese have doubled their market share from 2008 to 2012, reaching 10% of sales of cookbooks in China. Food culture books have also doubled, reaching 25%. Chinese food books have decreased from 71%% to 58%. Source : China Publishers Magazine, February 2013, Page 11.
• China is Nº 1 for wine books foreign rights buying in the world. • China is Nº 1 for printing high quality cookbooks. • The big and small Chinese food and wine publishers will be present. • Our Chinese partner is CNM, the China New Media Development Zone. It is the most influential media industry cluster in China, "The China Design Valley", including Beijing E-Commerce headquarters, publishers and printers and the top film and television corporations.
The Awards Ceremonies will be the most glamorous ever, organized with the studios who helped the Opening ceremonies of the Olympic Games 2008.
Beijing Cookbook Fair will take place May 19 – 22, 2014, with tourism options before and after the professional book fair. Many activities are planned, including a Foreign Rights Center, stands, conferences, product presentations and tastings.
During the week, there will be a banquet every night, giving many opportunities to learn more about Chinese food culture.
The Gourmand World Cookbook Awards are often compared by journalists to the "Oscars". We believe that we are inspired by the Olympic Spirit, which will show in Beijing.
Welcome! Ni hao!
les dernières info sur Gourmand magazine n°43
gourmand_magazine43.pdf
Document Adobe Acrobat
1.2 MB