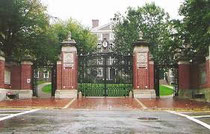 Food Heritage, Hybridity & Locality
Appel à publication jusqu'au 1er mai
La conférence aura lieu à la Brown University, Providence, RI 02912, United States
du 23 au 25 octobre 2014
Co-­‐organisateurs: American Studies Department, Brown University Department of Anthropology, The Chinese University of Hong Kong UNESCO Chair Project on Safeguarding and Promoting Cultural Food Heritage, University of Tours RI Historical Society
Signalé par Anik Buj.  
Retour aux Archives des Actualités  
­There are many places in the world that have been contact zones, breeding grounds for food encounters and hybrids, seeding conversations that end up composing the narratives of identity that bring food and place together. In Rhode Island successive waves of immigration have contributed to a hybrid culinary scene that includes homegrown specialties like RI chowder, and the Jonny cake. The list might also include Del's lemonade, the wimpy skimpy, the chow mein sandwich, and the grilled pizza, among others. The process of "food becomings", in Rhode Island, and in other localities around the world inspires the topic for the international conference, "Food Heritage, Hybridity & Locality" scheduled for October 23-­‐25, 2014. We hope that this event will establish a space for scholarly work about food to hybridize with the ideas and practices that guide food professionals in their daily work.
Proposal Guidelines: We seek papers from all disciplines that examine food and foodways by bringing locality, hybridity and heritage into focus. We invite scholars who are conducting research on foodways in the context of heritage politics on local/regional levels, examining issues such as transnational relations, globalization and localization, ecology and natural resources management, transformation of traditions and technical interventions etc. Papers might provide ethnographic description and analysis of the preservation of food as a kind of heritage at different levels and how they interact with the social and political complexities in specific cultural contexts.
Paper topics might include any of the following:
• Domestic/national culinary heritage
• lnvented traditions in restaurant and eatery
• Food and identities
• Marketing and management of traditional/nostalgic food
• Rural/urban, village/city, local/global relations affecting traditional food production
All abstracts and papers will be in English. The deadline for submitting a 500-­‐word abstract/proposal is 1 May, 2014. If your proposal is accepted by the organizing committee, a full-­‐ length paper should be submitted by the end of July 2014.
Submit proposals to: food_heritage2014@brown.edu.
Authors of accepted proposals will receive accommodation for the duration of the conference events.